Services
Tree Care
Landscape Services
Steam Weeding
Natural Resource Consulting and Contracting
Tree Care
Why should you chose Sense of Place for your tree care needs? To start, we offer estimate appointments after working hours and on weekends. You won't wait hours for our sales person to arrive. When we say 6pm, we mean 6pm.
Sense of Place is not a tree removal contractor. Ask a hammer what to do, and of course it is going to say pound nails. If you ask us if we think a tree should be removed, we'll give our honest, professional opinion, not an automatic yes. We have the assessment skills (ISA Certified Arborist and Qualified Tree RIsk Assessor) to finely discern tree condition and write a work prescription that matches your needs to tree condition.
A detailed written estimate gives you peace of mind that what was discussed is what will occur on work day.
Modern climbing methods. We never use spurs to climb a tree we are pruning. Anyone who does is taking shortcuts with your tree's health.
Fruit tree pruning. As home orchardists and arborists, we have fruit tree pruning experience that only comes from working on the same trees year after year after year. We've also invested in equipment that speeds our work and prevents repetitive motion injuries. The combination of experience and equipment equals unparalleled efficiency.
In addition to a tow-behind chipper, Sense of Place is one of only a handful of companies to use a commercial-grade portable chipper and leave wood chips on site in your landscape, not in a Sisyphean pile in your driveway. We can scatter chips or leave them in a pile for you to use as mulch in your landscape beds, allowing you to benefit from their weed suppressing, water preserving goodness.
Oregon law requires any business trimming branches higher than 15' or removing trees or branches greater than 4" in diameter to be licensed with the Oregon Construction Contractors Board, or the Oregon Landscape Contractors Board. Our LCB# is 8795. Sense of Place is bonded and insured for your protection.
Payment convenience. Invoices are promptly mailed or sent via email. We accept cash, check, and VISA and MC credit cards.
Tree care services include:
• Health and risk assessment

• Forest stand management
• Wildfire fuels reduction and creation of defensible space
• Tree preservation

• Pruning, removal, and stump grinding

• Air spade excavation, root zone identification, and soil amending

• Fruit tree pruning, restoration and organic pest & disease control

• Storm cleanup: 24 hr emergency response

• Cat in tree rescue (no charge for rescue of stranded kitty cats)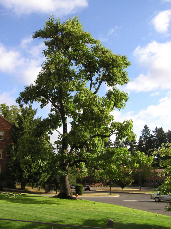 The wonder is that we can see these trees and not wonder more.
Ralph Waldo Emerson
Landscape Services
Our mission is to help people and society on the path to sustainability. We specialize in liveable landscapes. Whether you want to watch birds, sequester carbon, conserve water, support pollinators, grow your own food, or just have a safe place for your kids to romp around, we support your efforts be outside and connect with nature.
Sense of Place is on a path to increased sustainability as well. We are one of a handful of EcoBiz certified landscape companies in the Portland area. Please see our Environmental Practices page for more details on how we minimize our ecological footprint.
Areas of in-house expertise for design, installation, renovation, and maintenance include:

• Vegetable gardens, fruit trees, and all aspects of edible landscaping
• Native plantings for drought tolerance, pollinator support, and bird habitat

• Paths and beds
• Drainage improvement
• Bio-swales and rain gardens
• Drip irrigation systems

• Rain water catchment
• Chicken coops and grazing systems

• Greenhouses
• Holistic weed control

Take a look through our Portfolio to see some of our recent projects. References are available on request. Sense of Place is an all phase landscape contractor, licensed with the Oregon Landscape Contractors Board (LCB#8795).
Steam Weeding
Boiling water has long been used to kill weeds. Our steam weeding machine uses 250F super-heated steam to kill annual and perennial weeds. Typically requiring 3-4 treatments per year, steam weeding is a non-toxic, organic method of weed control. Benefits of using steam to kill weeds are numerous, including: faster than hand labor, no disturbance of the soil, extend the effective life of bark dust and mulch, safe for kids and pets, and immediate re-entry allowed to site (as compared to chemical methods).
We've used steam to tackle some challenging weeds--morning glory, Italian arum, lesser celandine, shiny geranium. Some require more persistence than others, but so far we're thrilled with performance of this new equipment. Because of need for repeat treatments (as with any organic weed control method), steam weeding is offered as a seasonal package. Please call for more information and to arrange an estimate.
Natural Resource Consulting and Contracting

We solve natural resource problems using logic and determination to insist on science-based, data-driven decisions. Service areas include:
• Stormwater management
• Ecological inventory and conservation planning for properties large and small
• Wildfire fuels reduction
• Timber stand improvement

• Riparian restoration and management

• Trail construction and maintenance

• Noxious weed control--Canada thistle, lesser celandine, morning glory, Himalayan blackberry, English ivy, creeping charlie.
• Grant and technical writing, editing, and group facilitation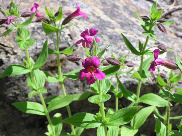 Training and Seminars

Customized, hands-on seminars for small groups are the preferred setting for our training workshops. We maintain a high instructor-to-student ratio to ensure you will have adequate time for questions and covering the subject matter.
Available topics include:
• Fruit trees

• Composting

• Intro to Permaculture

• Low maintenance vegetable gardening
• Hand tool repair and maintenance

If you don't see your topic of interest listed above, just ask and we'll work with you to customize a seminar, or find another resource for getting you the information you need.
Low Carbon, Organic Landscape and Tree Care Services

Looking for an organic, low CO2 emissions way to manage your landscape? If you live in Clackamas, Milwaukie, Oregon City, Gladstone, or North Clackamas County, we may be able to help with tree care or regular landscape maintenance using bicycle transportation and hand powered tools. We're also available for consultations to help integrate decisions about landscape care into your overall household environmental footprint. Although owner Nick Bezzerides has long been a bicycling, doubling digging, reel mowing, hand tools first environmental nerd, don't think we won't apply common sense. Sense of Place regulars know that we look out for your pocketbook too. Call us today to initiate a conversation on this important topic.