About Sense of Place

Sense of Place Permaculture was formed by me, Nick Bezzerides, in 2008 to provide environmentally appropriate design, installation and maintenance services for rural, residential, and commerical landscapes.
Recognizing that many clients prefer a do-it-yourself approach, I also provide consulting and training to provide information, build skills, and increase capacity.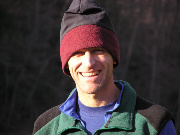 Every project is different, but our service standards do not change:

• Respect
• Honesty
• Active listening to your project needs
• Safe work habits
• Exceed expectations

Everyone has a different background and history with regard to environmental issues. To me, this means we are in different places with regard to our environmental (and social) impacts. I believe positive change is the most important metric, not necessarily at what point on the sustainability scale that change is occurring. I promise that no matter what your current situation, I will treat you with respect, honesty, and fairness in all business matters, and I ask the same of you.
Business Environmental Practices
Click here for more information on what we do to protect the environment.
Education, Training, Certification, and Licenses
In addition to past project and work experiences, I bring a range of education and training to your project including: BS Biology (Colorado State University), MS Forestry (University of Montana), ISA Certified Arborist (#MW4383A) and Qualified Tree Risk Assessor, Certified Permaculture Design Consultant, and Master Gardener. What does this dedication to continuing education and certification mean for you as a client? It means that my business services are based upon up-to-date information. It also means that I am well-connected to a variety of professionals who can help me when I run into situations that are unfamiliar (for example when dealing with a new plant disease). As a responsible business owner, I maintain licensure with the Oregon Landscape Contractor's Board (LCB#8795), and appropriate local municipalities.

Thank you for visiting the Sense of Place website. If you have any questions, or would like to schedule an estimate appointment, please don't hesitate to give us a call.