Thank you for visiting Sense of Place Permaculture. We are a locally owned and operated company offering tree care, edible and native landscaping, and natural resource consulting and contracting services.
We work with tenants, property owners and managers to create livable landscapes and provide stewardship for the natural resources that make the Pacific Northwest our home.
What is a livable landscape? It is a landscape that encourages spending time outside, at or close to home. It is a landscape that is lived in more than looked at from afar. It nurtures our sense of place and ability and motivation to care for our environment.
Please see our services page for more information on what Sense of Place can do for you. In addition to contracting, we also provide seminars and training for homeowners and professionals. See the listings to the right for news and upcoming events.
And, don't hesitate to call with any questions, comments, or to set up an estimate appointment.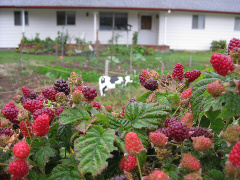 News and Events
--Now offering AIR SPADE services to reduce soil compaction, facilitate root collar inspection, help with transplanting, and rejuvenate tired soils, all without harming below ground roots, wires, or pipes.

--On 3/8/2016, Sense of Place Permaculture received EcoBiz certification by the Pacific Northwest Pollution Prevention Resource Center. This certification involved evaluation of all aspects of our business, to ensure that practices minimize environmental impact, when ever and where ever possible. We mean business when it comes to conservation and raising the bar on reducing environmental impacts.
--Bicycle-transported, hand-powered pruning and land care now available for Oregon CIty, Milwaukie, Gladstone, and Clackamas--see our services page for more details.
--Hands-on fruit tree pruning class at an orchard in Oregon City--contact Sense of Place Permaculture for details-- 971-344-0810
Permaculture is a nature-based, holistic design system for creation and use of sustainable human landscapes.
Key Words: arborist, bee-friendly, bicycle, bike, broadfork, Clackamas, design, drip irrigation, edible plants, fences, fruit trees, gardens, garden tools, Gladstone, Happy Valley, hand powered, irrigation, installation, landscapes, landscaping, low carbon, Milwaukie, native plants, Oregon, Oregon City, organic, paths, permaculture, pollinators, Portland, rain gardens, rain water catchment, raised beds, stump grinding, sustainability, tree care, tree pruning, tree removal, ubar, vegetables, West Linn, Wilsonville