Thank you to all who supported Sense of Place Permaculture in 2021.
How can we help you in 2022?
Natural resource stewardship remains the mission under which we operate. Tree work, support of subsistence lifestyles and activities, and natural resource conservation: these are our core services and focus areas. Please see our Services page for more details.
The past year was difficult, and reinforced for the Sense of Place team the need to stay focused on our heart-felt mission of providing community support for natural resource conservation.
Despite the prepper reputation that many permies get, and the deep resilience that permaculture systems can generate, Sense of Place Permaculture has NEVER sold our services playing on your fears of apocalypse.
And we won't do it now. We believe permaculture is a useful system to help you focus efforts to get in touch with nature, produce more food, support wildlife, learn about human ecological impacts, and connect with others to have fun, share, and heal damaged ecosystems.
Past and present clients know we don't BS, and that we offer science-based, field-tested solutions to their property natural resource needs. Please see our services page for more details. We look forward to hearing from you.
Thank you.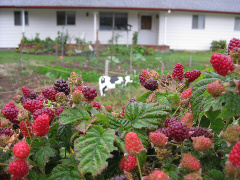 News and Events
--Chips!!! We want you to keep them in your landscape. Sense of Place Permaculture is one of a handful of companies to use a backyard portable, commercial-grade chipper. We have pushed, pulled, winched, and lowered Chippy into some crazy locations to leave chips on site, and avoid having to drag brush out to the street. If you want chips left on site, please let us know.
--Sense of Place is now offering an effective alternative to toxic herbicides. Steam! With our commercial grade steam weeder, we can quickly pass through your property killing weeds without leaving behind toxic residues. See our services page for more details.
--Clackamas Tree School: postponed indefinitely
--Bicycle-transported, hand-powered pruning and land care now available for Oregon CIty, Milwaukie, Gladstone, and Clackamas--see our services page for more details.
--Hands-on fruit tree pruning class at an orchard in Oregon City or Milwaukie--contact Sense of Place Permaculture for details-- 971-344-0810
Permaculture is a nature-based, holistic design system for creation and use of sustainable human landscapes.
Key Words: arborist, backyard habitat, BeaverCreek, bee-friendly, bicycle, Boring, ISA Certified Arborist, Clackamas, Colton, conservation, Corbett, defensible space, landscape design, drip irrigation, EcoBiz, edible plants, Estacada, fences, forest management, forest thinning, fruit trees, gardens, Gladstone, habitat, Happy Valley, hand powered, installation, landscapes, landscaping, low carbon, Milwaukie, mini-farm, native plants, natural resource, organic, Oregon, Oregon City, organic, paths, permaculture, pollinators, Portland, rain gardens, rain water catchment, raised beds, risk assessment, Sandy, steam weeder, steam weeding, stump grinding, sustainability, tree care, tree pruning, tree removal, tree risk assessment, weed control, wildfire fuels reduction, vegetables, West Linn